It is a different world within our pharmacy. Across our teams, just like many of our facilities, we are working to safely serve our customers and each other. What does business look like when you are essential workers in long-term care pharmacy?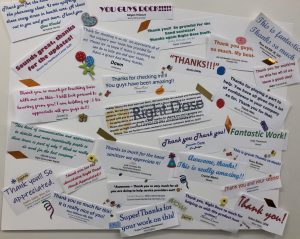 For our delivery teams, it has meant disposable bags instead of totes, lots of gloves and masks, meeting our customers at the front door instead of entering buildings and lots of disinfecting! Our pharmacists and fill technicians are working shifts with consistent teams to decrease exposure to a wide variety of people. Data, billing and medical records teams are working from home to remain healthy for us all! We have planned for appropriate stock, compounded hand sanitizer and kept a close eye on any threats to filling our customers' needs. We are taking temperatures, cleaning more aggressively and continuing to adjust as new information becomes available.
As we continue working with our partners, they have been kind enough to send words of appreciation to us, which we distribute and display in our pharmacies because it reminds us of why we do what we do. So, thank YOU for keeping our spirits up!